To us, the arrival of the summer changes everything. Our organisation of just 13 full-time employees increases a hundredfold into a festival team of 1200. That's how many salaried and voluntary pairs of hands are needed to receive the Savonlinna Opera Festival's 70 000 visitors.
The annual budget of our festival is 8 million euro, which is mainly covered by ticket revenue – the valuable contribution of every visitor who comes to see the performances.
300
Opera is a large-scale artistic endeavour. Creating the sound intended by the composer is a combined effort by an orchestra of up to 80 musicians, an 80-strong choir, soloists, dancers, and a children's choir. Artists make up around a quarter of the entire team.
200
The professionals backstage are responsible for making and changing the sets and costumes, doing the performers' hair and make-up, as well as managing the lighting, surtitles, transport, schedules, and countless other technical and practical tasks.
450
The more than 300 security and first-aid staff, ushers, and children selling programme leaflets are all volunteers, who play a crucial part in making the festival possible. Three sports teams from Savonlinna also get involved in the festival effort. Our compensation to them enables important work to support local children and young people.
A total of 500–600 of our salaried and voluntary workers come from Savonlinna.
Festival owned by its audience
The Savonlinna Opera Festival is made possible by a non-profit support foundation. Most of our visitors are private individuals who buy their own tickets: corporate guests amount to 10% of the total. In a way, the Savonlinna Opera Festival is owned by its audience – the approximately 700 members of the support foundation who participate in building our future. Besides supporting us, members have the chance to influence the direction of the festival, while enjoying a whole host of benefits. We'd love you to join us!
86%
Our operations are financed through ticket revenue, corporate sponsorship, and donations. Our financing model is based on an exceptionally high self-financing ratio. We also receive public funding from the Ministry of Education and Culture and the City of Savonlinna. The Savonlinna Opera Festival has a huge economic impact on the local region, delivering up to 43 million euro in annual revenue.
1475
The Savonlinna Opera Festival is built from scratch every summer. Olavinlinna is a listed building with no storage facilities or permanent structures for the festival.
Little did the builders of the defence fortress in 1475 know that their work would one day provide a unique atmosphere and outstanding acoustics for opera.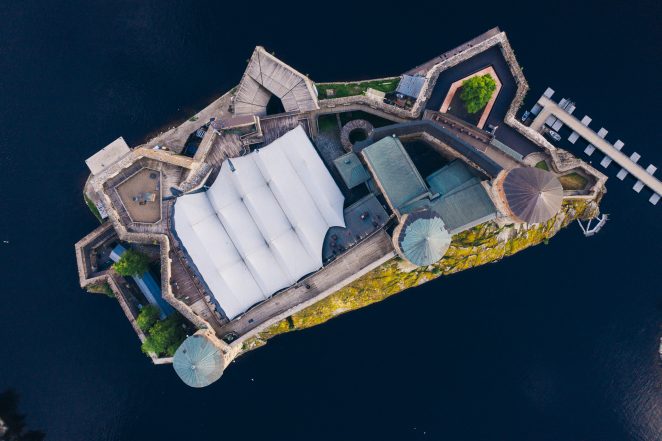 As Olavinlinna is located on an island, all the sets, costumes, technology and other equipment must be either brought over by ferry or carried across a bridge. After the festival, the effort is repeated in reverse.